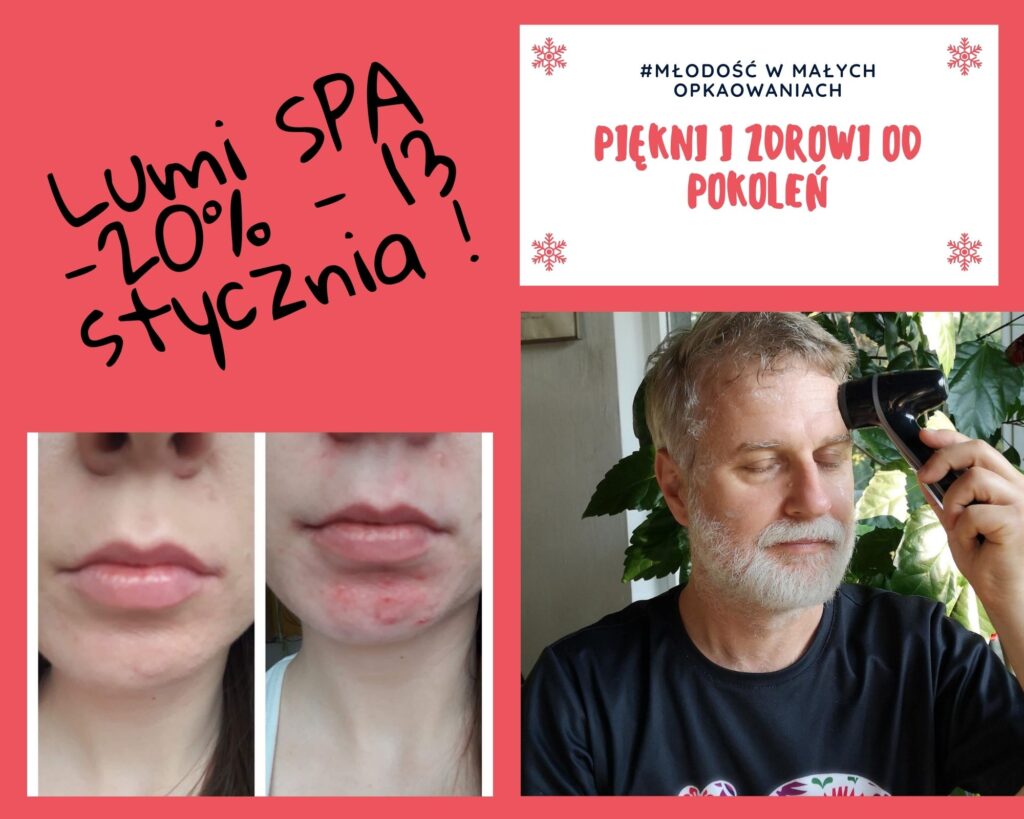 🥵 Czy borykasz się z problemami skórnymi ❓ Czy byłoby Ci lepiej jeśli znalazłby się sposób na poprawę kondycji i stanu skóry na twojej twarzy ❓
Takie tematy nierzadko przewijają się w rozmowach, gdy temat schodzi na to czym się zajmuję. Młodzież, ale także spero dorosłych boryka się z problemami skórnymi. A maseczki czy siedzenie w domu wcale nie pomagają.
Jeżeli poruszyłem czułą strunę, jest to mam rozwiązanie dla Ciebie ❗
To znakomita, personalizowana do potrzeb Twojej skóry technologia zaklęta w pięknym kształcie czyli LumiSPA 💥👍
📌 3 rodzaje głowic z silikonu medycznego z jonami srebra pomagają dostosować pielęgnację do Twojej, nawet bardzo wrażliwej skóry. Chcesz zaprzyjaźnić się z ośmiorniczką 🦑 ❓
📌 5 rodzajów żeli do zabiegów od cery normalnej / mieszanej poprzez tłustą, suchą aż do problematycznej zapewnia pełne dostosowanie do twoich potrzeb;
📌 Głowica urządzenia dokładnie usuwa ze skóry brud, resztki kremów czy makijaż, nie uszkadzając jakże ważnej ochrony czyli bariery hydro lipidowej skóry;
📌 Głowica urządzenia dzięki opatentowanemu ruchowi znakomicie usuwa brud i zaskórniki, powodując w ostatecznym efekcie zmniejszanie porów;
📌 Drgania głowicy pobudzają jednocześnie do pracy twoje fibroblasty, dzięki czemu uruchamia się produkcja naturalnego kolagenu.
📌 Odpowiednio dobrany żel powoduje dobry poślizg głowicy a jednocześnie zawarte w nim składniki z formułą przeciwstarzeniową odżywiają skórę i wspierają proces przeciwstarzenia się skóry.
👉 Skuteczność działania LumiSPA przed jej wprowadzeniem na rynek została zweryfikowana poprzez 12-tygodniowe badania konsumenckie typu "in vivo" na 150 kobietach z różnymi rodzajami cery.
👉 🔴 Sporo moich znajomych a także profesionalistek z branży beauty przekonało się do tej technologii i z powodzeniem stosuje ją do pielęgnacji własnej lub poleca klientom.
💥 UWAGA 13.01 Lumi będzie w ofercie specjalnej -20% 💥 Warto skorzystać z okazji 💥
Zainteresowana ❓ Zainteresowany ❓  Zadzwoń do nas +48 530 750 740 a pomogę Ci w doborze pielęgnacji odpowiedniej dla Twojej cery.