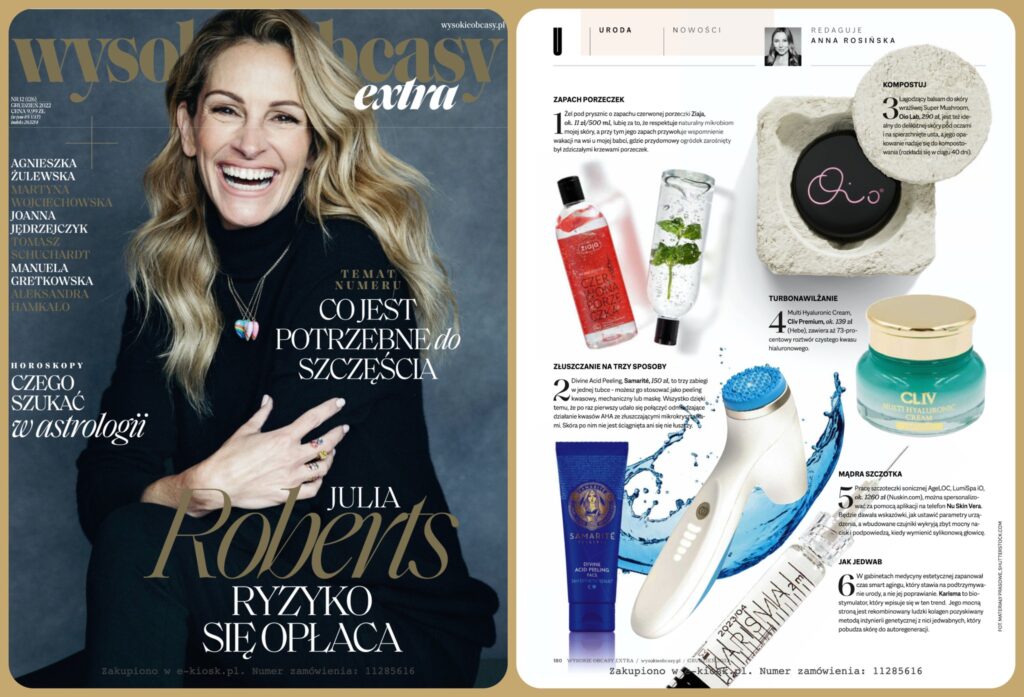 👉👉 Wiesz może, że w specjalnym wydaniu magazynu Wysokie Obcasy wśród polecanych nowości znalazła się nasza ageLOC LumiSpa iO.
Nie przegap tego, złap egzemplarz magazynu w kioskach.
Krótka informacja o Lumi Spa I/O jeżeli nie wiesz czym się ekscytujemy 💥🤣
To urządzenie do pielęgnacji skóry twarzy, szyi i dekoltu. Jest dedykowane do każdego rodzaju skóry. Nie podrażnia i może być używane także przez posiadaczy skóry bardzo wrażliwej.
Urządzenie jest bardzo intuicyjne w użytkowaniu. Dla niecierpliwych – cały zabieg trwa jedynie dwie minuty – po 30 sekund na każdy obszar twarzy. Dzięki połączeniu urządzenia z aplikacją VERA możliwe jest tworzenie własnych schematów oczyszczania, również dłuższych niż domyślny.
Co ważne, urządzenie AgreLOC LumiSpa samo informuje o przejściu do kolejnego obszaru, a po skończonym zabiegu sama się wyłącza. Oczyszczanie jest bardzo przyjemnie, nie podrażnia, a skóra nie staje się zaczerwieniona.
Regularne stosowanie urządzenia to nie tylko korzyści związane z samym oczyszczaniem, ale także widoczna poprawia gładkości i jędrności skóry. Opatentowana przez markę Nu Skin technologia Two-Sense Motion stymuluje skórę, a precyzyjny ruch i częstotliwość idealnie współgrają z Activating Cleansers dogłębnie oczyszczając i sprawiając, że staje się ona gładsza i delikatniejsza już po pierwszym użyciu.
Miękka, uniwersalna, silikonowa głowica z technologią two-sense motion LumiSpa współdziała z preparatem oczyszczającym w celu zmycia brudu, przetłuszczeń i makijażu, aby spowolnić proces starzenia się skóry i zapewnić młodzieńczy blask.